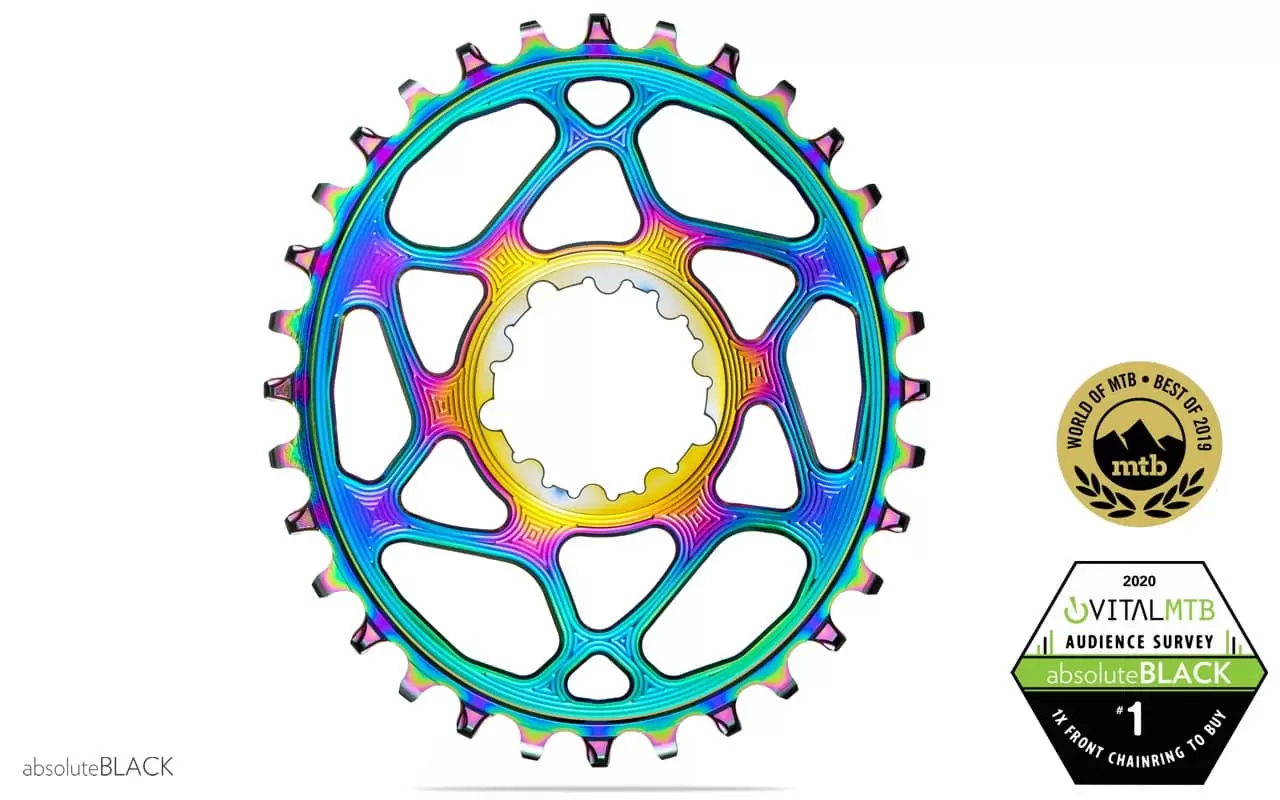 OVAL BOOST DIRECT MOUNT CHAINRING FOR SRAM - PVD RAINBOW - NARROW WIDE DIRECT
The Original one and only Premium absoluteBLACK Sram compatible Direct mount BOOST 1 Oval narrow wide chainrings in PVD Rainbow (oil slick) color. Designed for DUB, GXP and BB30 cranks. This special PVD Rainbow Titanium coating process makes the chainrings very durable and incredibly beautiful. It is the most Premium oval chainring on the market with scientifically proven performance gains.


ADVANTAGES OF OUR SPECIAL DIRECT MOUNT NARROW WIDE CHAINRINGS:
Finest design to provide excellent weight to strength ratio

One of a kind special oval shape (Patent Pending)
Greatly improves traction and climbing abilities
Unique Patent Pending alternate wide and narrow teeth profiles to keep your chain in place for minimum 12 months!
Special 3D teeth machining for ultimate mud relief decrease wear and noise dramatically
They save weight because they don't need the spider and chainring bolts.
The ability of installation of a smaller ring sizes that can't be mounted on regular spider.
Superb quality and great look.
You will ride faster using ovals. If you keep using round ring then others will get quicker.
You will not "feel" the oval shape at all
Reduces stress on knees
We mastered our oval chainrings to perfection, so you can get best possible advantage from the oval/elliptical shape.
HOW TO MOUNT OUR OVAL CHAINRING TO SRAM DUB, GXP AND BB30 CRANK:
You need to unscrew these 3 torx t-25 bolts from the crank. Then remove the spider+chainring combo you currently have there. Clean the splines and put some grease on them. Position the chainring in place (note there is only one way to fit this chainring to Sram crank, so you don't have to worry how to do it). Close all 3 bolts to about 5-7Nm.

Specifications :
| | |
| --- | --- |
| Size (Mass +/-1g) | 28T (50g), 30T (55g), 32T (59g), 34T(66g), 36T (74g) |
| Color | PVD Rainbow (oil slick) |
| Compatibility | SRAM AXS, XX1, XX1 Eagle, X01, X01 Eagle, GX Eagle, NX Eagle, SX Eagle, X1, X0, X9, X7, S2210, S1400, Descendant, Stylo, Truvativ AKA and all DUB cranks. Cane Creek eeWings. GXP and BB30. BOOST148 bikes. |
| Material | cnc machined 7075 Txxx Aluminum. Long-lasting construction. Mud optimized |
| Finish | Physical Vapour Deposition |
| Chainline | 52mm BOOST148 specific chainline. 3mm offset |
| Ovality | Optimized to each size separately. Range: 10.2-14.4% and Timing of 110.5-116.3° after TDC (top dead center) Patent Pending |