Description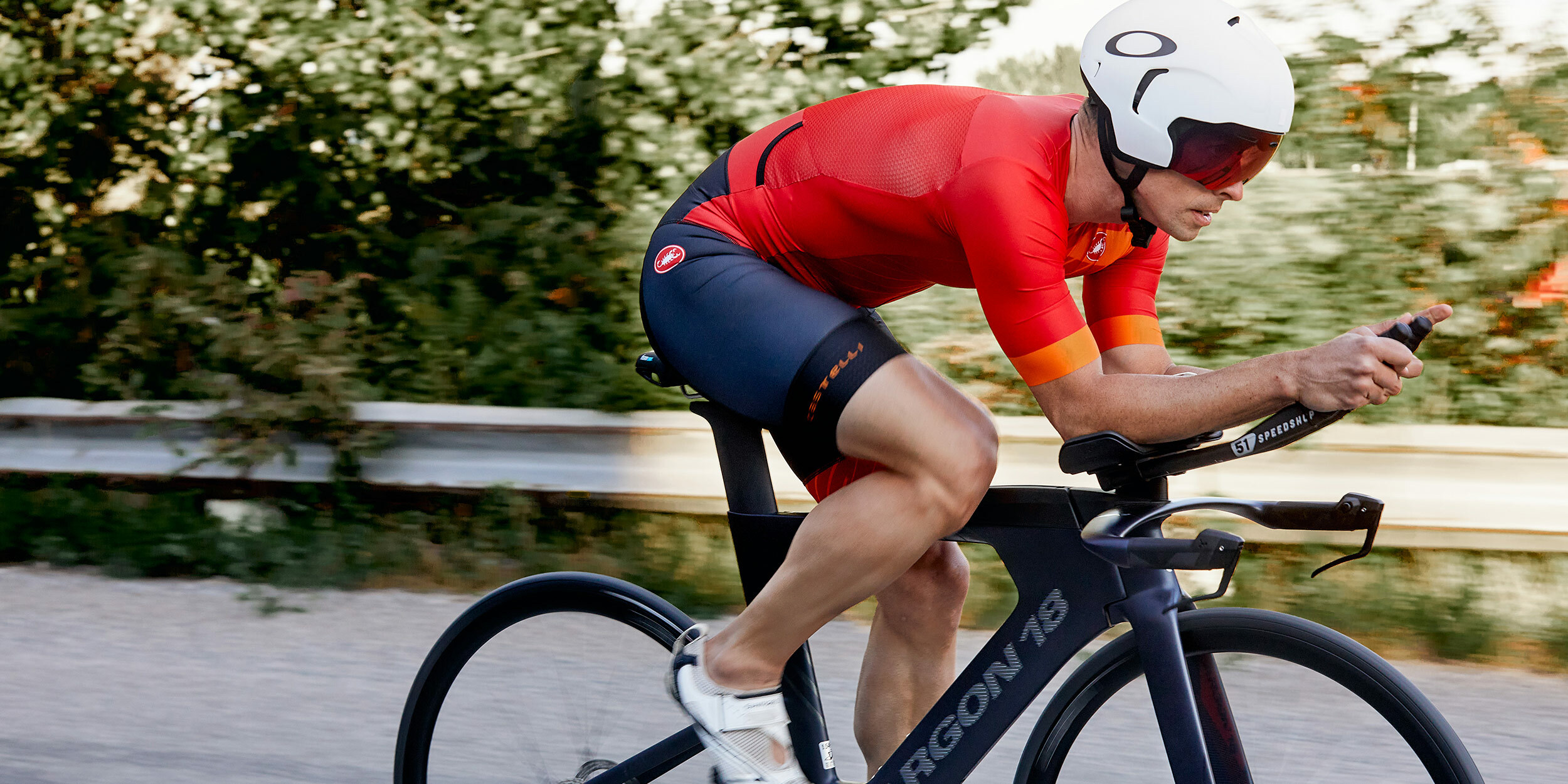 Argon 18 E119 TRI PLUS FRAMESET
Our fastest triathlon bike, offering our most advanced engineering and full integration for ultimate race-day performance. The E-119 Tri+ but that's just the beginning. In an industry first, we've integrated the brake calipers into the frame, for an aero advantage. Integration throughout the design also means a hidden toolkit in the BB, an integrated bento box and a fully re-designed cockpit. That this bike is aero goes without saying – but our focus was on full-system aero integration: bike and rider, plus all carry-ons. The new E-119 Tri+ offers up to a 10W advantage over the previous-generation E-119, considering frame optimization, system integration, and compatibility with advanced aero components, such as wheelsets. 
When optimal rider position is factored in, using new fit range capabilities, it can add an additional advantage. Ideal for Triathletes who are laser-focused on all aspects of performance: fit, nutrition, components, power transfer, and the hunt for innovation. This is your race-day weapon.


Core Technologies :

Oneness 3.0 - Our collaboration with Mat Steinmetz from 51 Speedshop for the redesign of the

 

E-119 Tri+ cockpit

 

resulted in a fit-first approach to provide maximum versatility and adjustability – and a focus on aero optimization of the rider's position. Quite simply, the most aerodynamic frame possible won't help if the rider cannot maintain the aero profile for a long race, such as a full Ironman. While our new bar can achieve a +5cm more upright position, the basebar can be flipped for a highly aggressive setup. The monocolumn system is extremely easy to adjust and easy to travel with. A sleek, streamlined look was achieved with completely hidden electronic shifting cables (both Di2 and AXS), and the integration of the usually-protruding brake fluid reservoir into the basebar – also allowing us to achieve aero gains. And we've done away with bar tape, having designed custom grips that fit tightly on the bar, and also closely integrate Di2 or AXS Blips for electronic shifting.


Integrated Nutrition - 

Many toptube bento boxes are too small for the nutrition needs of a full Ironman. Athletes need to find a solution, so they often place this extra nutrition outside of the bento box – often simply taped to the frame - leading to an aero penalty. Our 

integrated bento box solves this problem by including a reservoir within the toptube. Specifically designed for full IM nutrition needs, our integrated bento box significantly increases the capacity over our previous model, from 288ml (previous-generation E-119) to 405ml (E-119 Tri+ Disc). The bento box can be removed and cleaned as needed, and the box is closed, with only a few small vents to allow for rain or sweat to drain. This means there is no risk of any of the contents falling into and getting lost in the frame.


Integrated Toolkit - Our integrated toolkit is located at the BB, the optimal position to provide easy access with no structural or performance penalty. The BB solution also provides the best results in terms of weight position, usability, and accessibility. The weight and placement of the kit doesn't affect ride quality, being virtually imperceptible to the rider, even when out of the saddle. It also provides an aero benefit when measured against the common practice of strapping tools directly to the frame, or using an external toolkit. The integrated kit features a sleek zippered pouch with elastic cords to hold tools securely in place while riding, and is easily accessible through a panel on the BB.


PRO level layup - We leave no room for compromise when we build bikes for the most demanding and passionate cyclists. We combine our unique expertise in carbon layup and aerodynamics, a true sense of innovation and the most advanced technologies in order to produce true references in the cycling world: our Pro level bikes.


Thriathlon and TT Geometry - Tri and TT bikes prioritise aero performance, and the geometry of these bikes reflects this. To allow the rider to achieve an aggressive aero position, the seat tube angle is much steeper than on a traditional road bike. This geometry is designed to put the rider in a more forward position. Not only does this help with aerodynamics, it also can help save a triathlete's legs for the run, as it places less stress on the quadriceps. While a TT rider doesn't have to worry about running a marathon after the ride, the same aggressive aero positioning is required to shave precious seconds off the course. Argon 18's triathlon and TT geometry maximises performance while allowing riders to dial in their perfect fit to maintain that position throughout the race.


Argon Fit System - The Argon Fit System is designed to provide riders of all sizes with consistent performance and optimal positioning. Regardless of your build, gender or your riding style, our frames are designed so that your fit will always be efficient and comfortable, ensuring the ultimate in handling. We offer sizing from XXS to XL in all of our road bikes, and XS to XL in our Tri bikes, with each size approached individually from a design and performance perspective. While a lot of manufacturers optimise performance and weight targets for a medium size frame and simply scale up or down, we assess the performance of each size based on the individual character of that particular geometry. For example, even our largest frames have exceptional stiffness without excess weight, to avoid the 'dead' feel found in some XL frames. XS and XXS retain their inherent lightweight qualities, but without excess stiffness, avoiding harsh ride quality.
| Size | Seat Tube (c-c) | Seat Tube (c-t) | Top Tube Length | Head Tube Length | Chain Stay Length | Seat Tube Angle | Head Tube Angle | Stand Over Height | Wheel Size | Stack | Reach |
| --- | --- | --- | --- | --- | --- | --- | --- | --- | --- | --- | --- |
| XS | - | 455 | 491 | 60 | 405 | 78.0 | 72.0 | 715 | 700c | - | - |
| S | - | 502 | 503 | 70 | 405 | 78.0 | 72.0 | 754 | 700c | - | - |
| M | - | 516 | 517 | 86 | 405 | 78.0 | 72.0 | 768 | 700c | - | - |
| L | - | 542 | 527 | 112 | 405 | 78.0 | 72.0 | 793 | 700c | - | - |
| XL | - | 570 | 544 | 141 | 405 | 78.0 | 72.0 | 808 | 700c | 635-735 | 450-547 |
Specifications :

Aerobars

 

Argon 18 AHB-7600
Bottom Bracket Type

 

BB86 Required
Frame Material

 

Monocoque Carbon
Fork

 

Argon 18 E-119 Carbon Integrated
Headset

 

FSA MR122 / MR136
Seatpost

 

Argon 18 ASP-7600
Front Derailleur Type

 

Braze-On
Brake Calipers

 

Aero Integrated
Stem

 

ONEness 3.0 Integrated
Argon 18 E119 Tri+ Frameset